Menu
Blog Home
Details

Category: Mystery
Hits: 8428
GROUP SETTLEMENT IN WA
Group 68 on the Peel Estate
Governments often have good ideas. The problem seems to be making them work….
In 1921, with so many of its young men lost to the Great War, Western Australia was in desperate need of new settlers. The Government of the day offered free land and assisted passage to British families who were willing to develop farms in the State's South West.
Settlers were to work in groups of 20 developing the land and later each would take over a farm when it was fully prepared. Groups were established in the Manjimup district, followed by others at Denmark, Northcliffe, etc. as well as on the Peel Harvey Estuary south of the State's capital, Perth.
Details

Category: Mystery
Hits: 5290
The voyage of a lifetime
Following on from our previous article on the passenger list for the TSS Belgic.
The story of the Belgic 1911 voyage gives an intersting insight to just one voyage for immigrants to Fremantle, Adelaide and Sydney.
The Passengers
According to the passenger list in WAGS possession, the Belgic carried a total of 1,548 passengers - 925 to disembark at Fremantle, 252 for Adelaide, 203 for Melbourne, and 168 for Sydney.
Newspaper reports of the day have slightly different numbers of passengers.
The West Australian of Friday November 10, 1911, reports that there were 283 men, 332 women and 290 children (905 total) disembarking at Fremantle. According to the newspaper report this comprised 188 families totalling 697 people, and 208 single persons, and included 8 assisted immigrants (one family of 6 and 2 domestics).
Details

Category: Mystery
Hits: 8748
TSS Belgic - Arrived Fremantle 11 November 1911 - Passenger List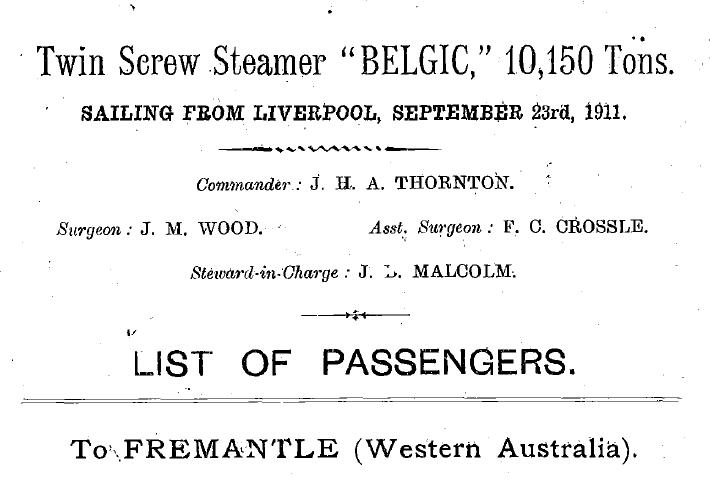 Some years ago WAGS Library was given an original Passenger List for the TSS Belgic, one of those been given to all passengers travelling on board the ship. The ship sailed from Liverpool on September 23, 1911 and arrived at Fremantle on November 11, 1911. There were 925 passengers on board for Fremantle and others bound for Adelaide (252), Melbourne (203) and Sydney (168) giving a total of 1,548 which included some new immigrants.
The person who donated the document to WAGS is unrecorded, but they had obviously had some connection with the ship as there are some pencil markings on the document which may indicate their interest.
The Belgic passenger list (opens in new tab) spent a lonely time on the WAGS library bookshelf attracting little if any attention, until now...
Read more: The Belgic, Part 1 - A Passenger List and a Tale of Two Ships
Details

Category: Mystery
Hits: 3300
Is one of your family members in this photo?

A WAGS member from Cunderdin needs some help to identify the group of men in this small photograph found in her family's collection. (Click to zoom)
The family has been told they are possibly members of a Roads Board somewhere in rural Western Australia, perhaps in the Goldfields or towns of Cunderdin, Coolgardie, Kalgoorlie or Day Dawn but the location is unknown.
Details

Category: Opinion
Hits: 4360
Family History research
It is one of the imperatives of good family history research that data resources such as newspapers and magazines are mined for material about the people of interest.
It is equally important that the social and economic history of the period in question is taken into account.
Here in Australia we are fortunate that our National Library undertook to scan and make available online as many past newspapers and magazines that they could get their hands on, subject to budgetary constraints of course.
We the people understand the need for budgets, and being able to do things within our means, as well as the escalating cost of doing the things that need doing.
Hence the need to do things smarter and use the technology available in a much more productive way, which brings me back to Trove.