Mystery surrounds the identity of Donald Smith
My grandmother's brother, Donald Arthur Biglin, wrote a brief life story for his children. It began:
I was born at Upper Swan WA on the 17.6.1906. My father William Biglin worked for a Mr Barrett Lennard, who had a farm and vineyard. While my family were at Upper Swan, a very old man was also working on the same farm. Being summer, the heat and long days, work was too hard for him, so he Donald Smith came to live with us, and when I was born I was called Donald. I can just remember him, before he died at Narrogin hospital.

I was 2½ years old when we moved to Cuballing, on to a bush block to develop a farm. ……….
Who was Donald Smith?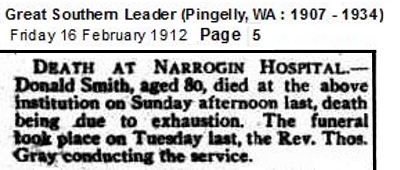 He died on 11 Feb 1912 at the Narrogin Hospital of kidney failure and exhaustion and was buried two days later in the Presbyterian section of the Narrogin Cemetery.
The newspaper report of his death says he was 80 years old yet on his death certificate his age is 75.
The informant on the death certificate was William Biglin who also said:
Donald Smith was born in Scotland and his occupation is a farmer.
He married in Sussex, England but no wife was named. [There is no Donald Smith marrying in Sussex between 1850-1900]
He had one daughter and it is not known whether she was alive or deceased.
Donald had lived in WA for 7 years. [Lived in WA or with the Biglin family for 7 years?]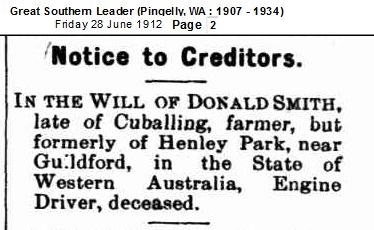 Donald Smith wrote a Will dated 16 Aug 1905 in which he says he is an engine driver. Everything was left to William Biglin of Henley Park near Guildford, agriculturist, including two blocks of unimproved land. At his death the total value of his estate was £118.10, including £55 for each block of land.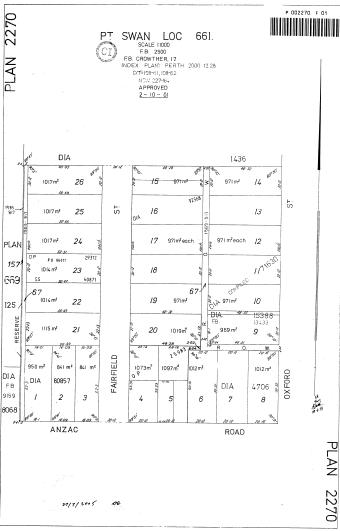 Donald Smith purchased his land between June 1903 and August 1905. The two blocks were lots 4 and 7 in Anzac Road, Mt Hawthorn although at the time the road was called Government Road. It was gazetted to be re-named in May 1916.
The land was subdivided in 1903 and called 'Hawthorn Estate'. The 307 lots were offered for sale in June that year. By October 100 lots had been sold for between about £16 and £40.
So who was Donald Smith?
He came to live with the Biglin family at Henley Park in about 1905 and then shifted with them to Yornaning near Cuballing in 1909.
The rest of Donald's life is a complete mystery!
---
Article submitted by WAGS member Marcia Watson - Marcia has no idea who Donald was, but thought that someone might like to claim him...
If you can provide information on just who Donald was, or would like to claim him & provide us with an update, please email us at: This email address is being protected from spambots. You need JavaScript enabled to view it..
---