Menu
Details

Category: Julie Martin
Hits: 910
PRISONERS OF THE PAST compiled by Calliope Bridge, Celene Bridge, Angela Teague, Mark Chambers and Tom Hogarth. Hesperian Press, 2017. 286p.
Book Review
When I read the publicity blub about this book, I was excited. I thought it was a compilation of the 'mugshots', (the original black and white photographs) of those persons admitted to Fremantle Prison in the opening years of the 20th century and now housed in the State Records Office of WA.
It wasn't.
Details

Category: Julie Martin
Hits: 666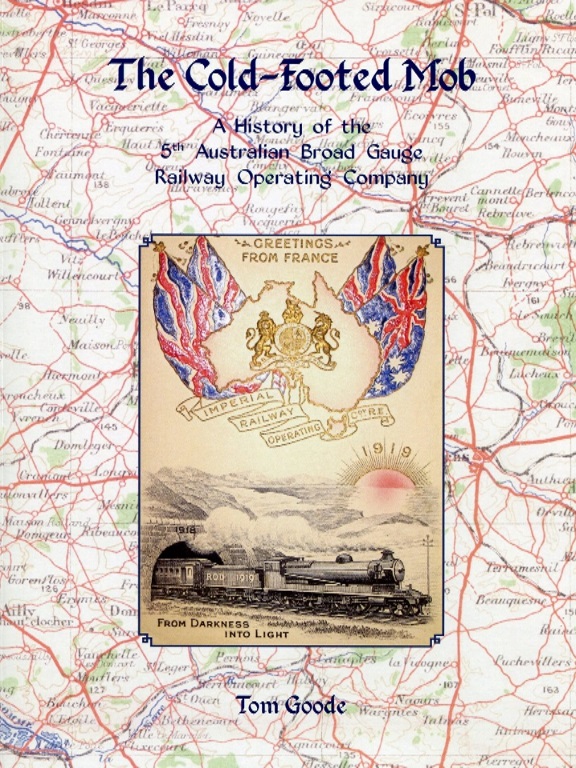 The cold footed mob: A history of the 5th Australian Broad Gauge Railway Operating Company
by Tom Goode. Hesperian Press. 94p
You'd be excused for giving this slim A4 tome no more than a passing glance. The title and the antiquated illustration of a train and some Australian and English flags centred on a yellowing map is hardly attention grabbing.
Don't judge a book by its cover. The cold footed mob is a surprising and interesting story about a little known unit of the AIF and its role in WWI.
Details

Category: Julie Martin
Hits: 1388
There's no doubt, photos are fascinating!
We can be drawn to an image because of its technical excellence or the way it's been composed. There may be a fascination with the subject or an intrigue as to the context or identity of the photographer. Then too, the provenance of a particular copy of a photograph may be the primary interest because of the story it reveals.
Some fourteen years ago, I found myself drawn to a particular photograph in the pictorial collection of the Battye Library. Recently though, my interest in it has widened considerably. Let me explain….
Details

Category: Julie Martin
Hits: 1489
Gift of a rare book - Who was Mrs Matters?
WAGS Foundation member Brian Croker was recently given a copy of the very rare book, Australasians who count in London and who counts in Western Australia written by Mrs. Leonard W Matters.
Brian indexed the content and generously shared his work with WAGS. The index can now be viewed on the Society's website and a digital copy of the entire book can be freely viewed on the website of the National Library of Australia. Anyone interested in Australian and especially Western Australian social history, will find it a fascinating item.
You are here:  

Julie Martin