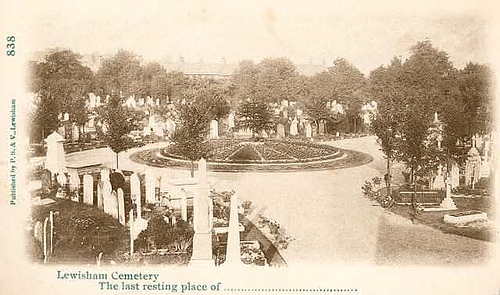 Deceased Online...
I noticed recently that the subscription website Deceased Online had added burial and cremation records for the London Borough of Lewisham to its collection. Had this news arrived six years ago, I would have been scrambling for the credit card to transact a 'pay per view'.
Now, that news only prompts vivid memories of a long drawn out hunt some years ago ….. let me explain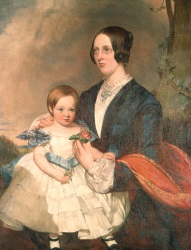 Elizabeth Hairs, my great great grandmother was a twenty two year old music teacher when she married John Webber, a designer and manufacturer of shawls in 1844. Over the next twenty years, the couple had residences in Blackheath, Lewisham, Dulwich and Beckenham all of which were then districts in the county of Kent, England. Elizabeth's childbearing spanned fifteen years and resulted in eight children, seven sons and a daughter, the last being born in 1860. Her portrait in oils shows her with her first born, John Jnr. In 1871 her husband was officially described as a widower, clearly Elizabeth had died sometime in the preceding decade.
Elizabeth Webber was not an uncommon name at that time and it was very difficult to decide which of all those listed in the GRO Death indexes was my ancestor. A chance work-related email correspondence with a fellow genealogist in London and an offer of his help with registration districts finally gave me the courage to apply for a death certificate. It turned out to be the correct one - my Elizabeth had died in 1865 of cancer of the womb at an address in Beckenham, Kent. As all family researchers will immediately understand, the next question to come immediately to mind was …. Where was she laid to rest?
Excited by finally discovering what had happened to her, I left that problem for some time and came back to it several years later when I began planning a trip to England. More and more information was appearing on the Internet and I was able to undertake detailed research into burial grounds in the Lewisham, Beckenham, Blackheath area and my guess was that she was buried in the Ladywell Cemetery, Lewisham.
I have great faith in the skills of local studies librarians and wrote to the Lewisham Archives whose archivist had written several booklets and articles about the district. He confirmed that the burial registers were indeed in his keeping and that for a fee, he would search them for me. I have a record of his email of 13 April 2010.
I have searched the Lewisham/Ladywell Cemetery grave registers and have found this entry:
'Elizabeth Webber, 43, buried 4th July 1865, in grave 74'
The grave was purchased on the 18th October 1865 by John Webber of Fox Grove Road, Beckenham, Kent, Gentleman.
There is also an entry for: 'John Webber, 24, buried 7th October 1869, in grave 74'
Eureka! The twenty four year old John Webber buried in the grave in 1869 was John Jnr. the couple's eldest son, who as a baby appeared in Elizabeth's portrait. This was definitely the grave of my great great grandmother Elizabeth.
In the English summer of that year, now in London for a couple of weeks I prepared for my journey out to Lewisham. The Librarian had told me that his archives held an 1890s plan of the cemetery with all the plots numbered. This would indicate the exact position of grave 74.
I remember sitting on the train as it rocked and rattled along watching the distinctive red brick houses of outer London flash by. It's hard to describe the emotions I felt – a traveller to a long forgotten place, a pilgrim, but it was much more personal than that. As soon as the train pulled into the Lewisham station I made for the local archives in the Lewisham High Street eager to find the location of Elizabeth's grave. The colour coded 'legend' on the beautiful plan of Ladywell Cemetery produced for me by the staff indicated that John had purchased a 'first class' plot for Elizabeth, one with a prime position bordering the internal road and on the curve of a roundabout near the chapel.
I still have my pencilled notes indicating the opening hours of the cemetery and the bus numbers which would take me past it. I had little time to spare before the cemetery closed for the day.
As I alighted from the bus at the entrance to the cemetery, a light misty rain began to fall. This was summer and I was
unprepared for English showers and in my excitement hardly noticed that I was getting wetter and wetter as each moment passed. Hurrying down the winding road, I expected to be confronted with a magnificent gravesite and tombstone. Elizabeth's grave was easy to find but sadly, in a state of disrepair and covered with newly mown grass, now damp from the incessant soft drizzle. The headstone, originally tall and imposing was now broken in half and the remnants nowhere to be seen.
I stood there for some time, drenched and bedraggled, probably in the same spot as her family had stood almost one hundred and fifty years ago as she was lowered into the ground. I wondered if her first born John Jnr. was present at her burial never thinking that he would be joining her in the grave in four short years. I felt the sense of the desolation that all her children must have felt to lose their mother. Poor Elizabeth. Fifteen years of childbearing had left her with a womb that could take no more. I suspect that I was the first to visit her grave for over a century and it gave me a feeling of deep satisfaction to have made this connection with her. Elizabeth's husband and daughter are buried together in Devon where his family originated, two of her sons are buried in Australia, two are at rest in New Zealand and two are buried elsewhere in outer London - not one of her descendants now lives in the UK.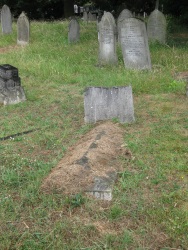 As closing time at the cemetery arrived, I left Elizabeth and joined the commuters on the train travelling home after their day's work. What a weird sight I must have been that afternoon, I was so wet that it must have looked as though I'd been swimming. I gave it little thought though - weird sights on London trains are not at all uncommon – I was just another of them.
Deceased Online could have saved me all the research, the email contacts, the examination of documents and plans, the train and bus trips not to mention the cough that eventuated from my drenching by the English summer rains. Nevertheless I wouldn't exchange my experiences and satisfaction at finding Elizabeth's last resting place for anything. A 'pay per view' is no substitute for the real thing.