My cousin Olga died last October. You'd never have guessed she was 83. She was aware that the end was coming and in her customary efficient way, organised as much as she could so that her passing would be a smooth process for everyone involved.
Before she died, she gave me a small carton stuffed with black and white photographs taken in the 1930s and 40s. Like many family photos from that era, snapped by novice photographers with unsophisticated cameras, they displayed children lost in a blur of movement or matronly ladies in dark frocks and large hats which completely overshadowed their faces. Nothing of particular interest.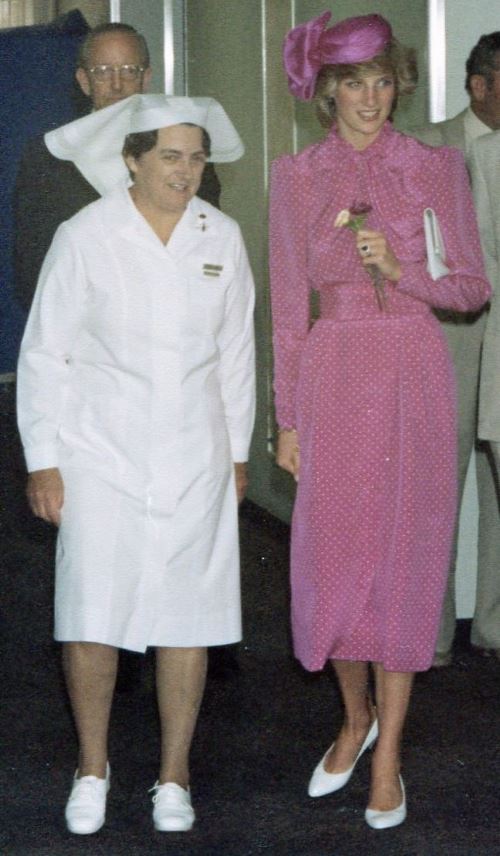 However, a few of the colour prints, conspicuous amongst the drab contents of the carton, caught my eye. In one, taken in April 1983, Olga, then Fremantle Hospital's Director of Nursing was pictured alongside a very attractive and elegant young woman in one of the hospital's corridors. The woman was instantly recognizable for at one time, she was the most famous woman in the world and certainly the most photographed. It was Diana, Princess of Wales!
I thought about the two women and their brief meeting. Despite their obvious differences, there were a number of parallels in their lives.
Both women had come to their respective roles by chance. Olga was studying to become an accountant and only swapped to nursing after attending a talk at her local church about the work of the Australian Inland Mission. Diana, on the other hand, was an assistant at a kindergarten but any thoughts she had of developing that role were overturned when Prince Charles, next in line to the British throne, succumbed to the pressure to take a wife.
Olga had been Fremantle Hospital's Director of Nursing for barely a month when she escorted Diana through the wards that day. Her thirty-year journey to that role was one that I know she looked back on with great pride and affection. The training of nurses, when she joined the profession in 1952, was hospital based and the students 'lived in'. In those early days, Olga slept on an unenclosed verandah with canvas blinds which flapped in summer and leaked rain in winter. There was little in the way of comfort or privacy, the iron beds with their horsehair mattresses were lined up side by side as in a barracks. Nevertheless, they were days of great camaraderie, support and friendship. The work was hard but the shared purpose was fulfilling. Olga and her fellow trainees soon developed skills under pressure as well as wisdom and compassion beyond their years.
As for Diana, in 1983 the twenty-two-year-old had been in her new role for less than two years. She had little time or experience to come to grips with being a wife and a mother let alone being a member of the British Royal Family. Diana's living conditions and surroundings, in contrast to those experienced by Olga during her training, were luxurious, with all the trappings of wealth and position but her life was under the strict control of palace courtiers and scrutinised by an obsessed and intrusive media. Nevertheless, it appears that she too quickly developed skills under pressure.
Both women achieved 'fame' of a kind. Olga ended her career with an Order of Australia plus other decorations and a huge list of achievements in the medical and nursing field. She was someone who oozed enthusiasm; she could never resist a challenge and positively thrived on being busy. That said, there was nothing 'starchy' about Olga and she was fun and interesting to be around. In 1979, she met Diana's future husband, HRH Prince Charles when he presented her with the Associated Royal Red Cross Medal at Government House. Ever the perfectionist, I remember her chuckling as she told us about the hours she put in perfecting her salute/curtsey/glove off/shake hands/glove on /salute/about turn routine!
Many of the positive changes in hospital care in Western Australia are a result of Olga's foresight, hard work, and practical wisdom; it was she who abolished white uniforms and starched veils for the nursing staff, but she was only well known within a specialised world.
Diana lived every little girl's dream - she was a princess! Nevertheless, despite not directly working with the sick as Olga did, her position and celebrity status meant she was able to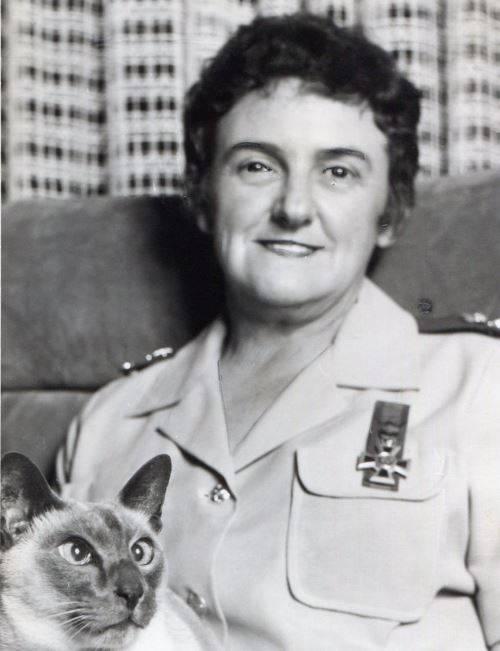 raise awareness and support for medical conditions such as AIDS and leprosy as well as for those disabled and dying and she was eventually named 'Humanitarian of the Year' in 1995. Her charm, warmth and instinctive compassion endeared her to the people but not it seems to family intimates. Whereas Olga had friendship, support and purpose, Diana struggled to find her place in the suffocating atmosphere at court.
Fremantle Hospital's new Princess of Wales wing had been opened in 1981 by Diana's mother-in-law, Queen Elizabeth II and was known by the staff as "Di's Wing'. When Diana toured Australia with her husband and baby William in the early months of 1983, it was natural that she should visit it, especially as it was the first building to be named in her honour.
Both women would have been apprehensive and nervous that day. This was, after all, the first solo engagement for Diana and a momentous occasion for Olga, the new Director of Nursing. Intent on keeping her own nervousness in check, Olga sensed Diana was doing the same but, as time went on, she could see that Diana was going out of her way to talk to staff lining the corridors and was endearing herself to everyone
"She didn't march past anyone. You felt at ease with her and she was charming beyond belief. She definitely had a natural grace and warmth" Olga said.
That morning passed quickly and, over time, Olga and Diana's brief meeting, captured in a colour photograph became lost in a small carton of memories.
Olga passed away at her home in Coodanup and a small group of invitees gathered when her ashes were sprinkled over the waters of the Peel Inlet last December. Diana lost her life in a car accident in Paris and her funeral was televised and watched by millions around the world. Olga won't be as remembered as Diana is, nevertheless I'm in no doubt she would have chosen the life she lived over that of her Royal companion of that April morning in 1983.
Rest in Peace Olga Hedemann. OAM, ARRC, DAM, CStJ, RFD, ASM, JP, FRCNA [1932-2016]
Rest in Peace Diana, Princess of Wales [1961-1997]