Two Lost Bibles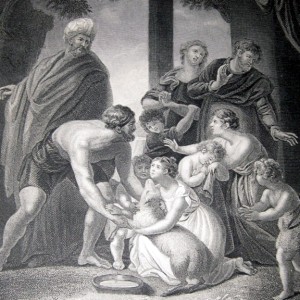 There's evidence that my great grandfather, who arrived in South Australia in 1848, brought with him a family bible. I have a copy of an old piece of paper which lists all fourteen of his siblings with their dates of birth and a note at the bottom coppay (sic) this in you (sic) bible and let Hanary (sic) have it as well.
Henry was the brother who accompanied my great grandfather Matthew March to Australia. Sadly, there's been no sighting of the bible itself; no-one in the family has any idea where it is. It's because of this situation that I look with envy at the two bibles on the shelf in the WAGS Library office and wish they were my family's lost volume... but they aren't.
The fruitless search for our missing bible has brought the realisation that another family historian might be looking for the bibles held by WAGS and I'm hoping, with some luck and clever detective work by our members, these volumes might be reunited with the descendants of their owners.
Here's the challenge - find the persons or families to whom these bibles belong. I'm asking all WAGS members to use their research skills, ideas and experience and post their findings to this WAGS blog and make a contribution, however small, towards what could be a joyful outcome for these volumes.
1) Family Bible of William Thomas
Fremantle Western Australia - Dated 23 December 1878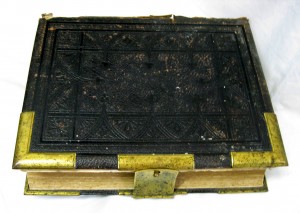 The first, and smaller bible of the two, would have been a very attractive item in its day but is sadly, in poor condition.
It measures 11x9x3 inches and has brass edgings and clasp. The inscription on the title page is William Thomas and one of the front endpapers is inscribed William [piece missing] Fremantle 23 December 1878.
The lady who brought the Bible into WAGS says that William Thomas was a friend of her great grandfather, Frederick Jones [1847-1914], the son of the naval architect and shipbuilder David Jones who arrived in WA in 1830. Frederick, who lived in Essex Lane, Fremantle went on to make his mark as a ships repairer, Town Councillor and at times acting Mayor. He warranted an entry in Battye's Cyclopedia of WA.
As to his friend, William Thomas, I did find a reference in Rica Erickson's Biographical Dictionary of West Australians which states "Mr William Thomas had residence on west side of Market St, between Phillimore and Short St (1869) brother of John and Joseph". It's likely that this William Thomas was the owner of the Bible, but not proven.
The bible itself is interesting. It was definitely published prior to 1881 when the revised version of the Bible was issued and Henry Frowde, the native of Devon mentioned on the title page, was in 1880 given the formal title of publisher to the University of Oxford.
2) Family Bible of Martha Smith and John Simpson
Marth Smith (b. 14 Feb 1834) and John Simpson (1880-1945)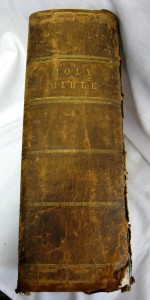 The second and larger bible (12½ x 10½ x 4 inches) came to WAGS in 2009 from the Health Department where it had been found amongst some old books in their collection.
Although the condition of the cover and binding is poor, the pages are in excellent condition and interspersed throughout it, are beautiful illustrations.
This particular version of the Bible was written in 1778 by the Scottish theologian John Brown [1772-1787] and was republished well into the 20thcentury.
This edition would have been produced in the mid-19th century and I suspect, had it been in better physical condition, would have fetched a handsome price.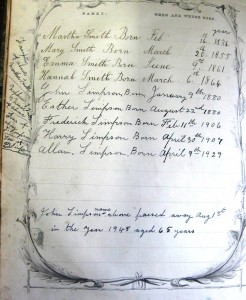 For family historians, the significant page is shown in the image on the left - nine family members and their dates of birth and for John Simpson, the last entry on the page, his date of death in 1945. The left hand column contains information about the relationships of the individuals listed.
When putting this blog together I came across a newish website called The Past on Paper, www.pastonpaper.com whose aim is to reunite genealogists and local historians with the items from their past, currently hidden in private collections and dealerships around the world - from family bibles and old photos, to wills, diaries and letters.
Registration is free and enables the genealogical data within the items on the site to be viewed. Currently there are items relevant to 968 people listed. It's worth a bookmark.
Please help with the challenge and find these bibles a home and if anyone knows the whereabouts of Matthew March's bible, well, I'd love to hear from you!
Julie Martin
Hon Librarian
---
This article was first published in October 2012.
---