Gift of a rare book - Who was Mrs Matters?
WAGS Foundation member Brian Croker was recently given a copy of the very rare book, Australasians who count in London and who counts in Western Australia written by Mrs. Leonard W Matters.
Brian indexed the content and generously shared his work with WAGS. The index can now be viewed on the Society's website and a digital copy of the entire book can be freely viewed on the website of the National Library of Australia. Anyone interested in Australian and especially Western Australian social history, will find it a fascinating item.
Firstly there's the title - Australasians who count, etc.….. It has an elitist air about it but in fact is only another way of saying 'who's who' or 'people of note'. In any society some become leaders because of their abilities (or other attributes) whilst others are happy to follow, expressing their voice in a democratic society through the ballot box.
Then there's the authoress, enigmatically named Mrs Leonard W Matters. It took some researching to discover her identity - Emilie Mary Domela… She was someone other than her husband's wife! In 1910, the year of her marriage to Leonard Matters, she was living in Palmerston St, Perth and described as a journalist. In addition to naming herself as Mrs Matters, Emilie gave herself the non de plume Egeria, the name of an early Christian woman who wrote of her travels in the Holy Land in a long letter to her circle of woman friends.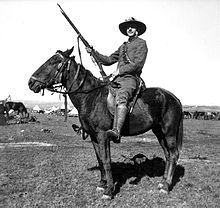 Emilie would have certainly travelled widely as her South Australian born husband Leonard, also a journalist, worked in India, Argentina, USA, Canada, Japan and the West Indies as well as Australia and London. For two years in the early 1930s he was a member of the English parliament and he also served in the Boer War. His major claim to fame however were his assertions that he knew the identity of Jack the Ripper. His biography on Wikipedia elaborates....
'In 1926, Matters proposed in a magazine article that the notorious serial killer Jack the Ripper was an eminent doctor, whose son had died from syphilis caught from a prostitute. According to Matters, the doctor, given the pseudonym "Dr Stanley", committed the murders in revenge and then fled to Argentina. Matters claimed he had discovered an account of Stanley's deathbed confession in a South American newspaper. He expanded his ideas into a book, The Mystery of Jack the Ripper, in 1929. The book was marketed as a serious study, but it contains obvious factual errors and the documents it supposedly uses as references have never been found'.
Emilie's greatest claim to fame however was her kinship to her sister in law, Muriel Lilah Matters an Australian born suffragist, lecturer, journalist,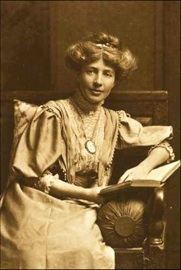 educator, actress and elocutionist. Based in Britain from 1905 till her death, Muriel is best known for her work on behalf of the Women's Freedom League during the height of the militant struggle to enfranchise women in the United Kingdom.
On one occasion, Muriel chained herself to the grille of the Ladies Gallery in Parliament House, was arrested and served one month's imprisonment in Holloway Prison. She was no doubt influenced by having spent the majority of her youth in South Australia, the first Australian self-governing territory to give women equal franchise on the same terms as it was granted to men.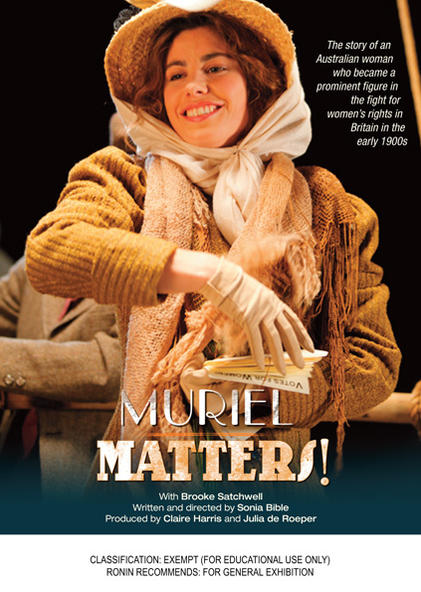 Muriel's exploits were the subject of the short film Muriel matters! produced in Australia in 2013 in which Brooke Satchwell took the leading role. We will very likely get a greater insight into the activities of women such as Muriel with the release of the movie Suffragette here in Perth on Boxing Day.
Finally there's the content of Emilie's book. Between the biographies of Anglo-Australians (including separate sections for bankers and those presented at Court) and the West Australians, Emile includes a series of unrelated articles written by various men and women. One of these articles is about Australian journalists in London written by her husband and another penned by her sister in law Muriel about agitation for social reform. There's also an insight into the early days of the beachside Perth suburb of Cottesloe!
Emilie dedicates her work to Sir George Reid, Australian High Commissioner to the United Kingdom from 1910 -1915. Prior to his appointment to the London office, he had been a Premier of NSW and the 4th Prime Minister of Australia. During his term as High Commissioner, Sir George set up a Publicity Department within the Commission which was headed by a South Australian journalist, Harry Kneebone. Emilie and Leonard would surely have known Kneebone in Australia and this connection would have been of benefit in obtaining Sir George's endorsement of Emilie's work.
This intriguing volume by Mrs Leonard W Matters is a glimpse of the life and times of Australians at the beginning of the 20th Century and especially of Australian women and their role in British society post Federation. Worth a browse when you have a few spare moments.