Browsing has its benefits...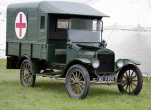 It was in the year 2011, when one day I was sat in at the Birtwistle Local Histories Library waiting for a client to arrive. I'd been volunteering with genealogy there and that day, to pass the time while waiting, I picked up a magazine and began to browse.
Casually thumbing through the pages, I came across an article about the Red Cross in northern France, during the First World War. The story went on to tell about volunteers who drove ambulances with the war wounded from the front line dressing stations to hospitals way behind the front.
It then came to mind that a Scots relative, great-uncle Patrick Singer Fowler had been involved in this sort of thing.
I knew very little about the man, especially his war service. So I read on. The story became interesting...
A Red Cross group photo
On turning the page the story continued with a half page photograph to look view. I glanced at the photograph and low and behold, there was Great-uncle Patrick.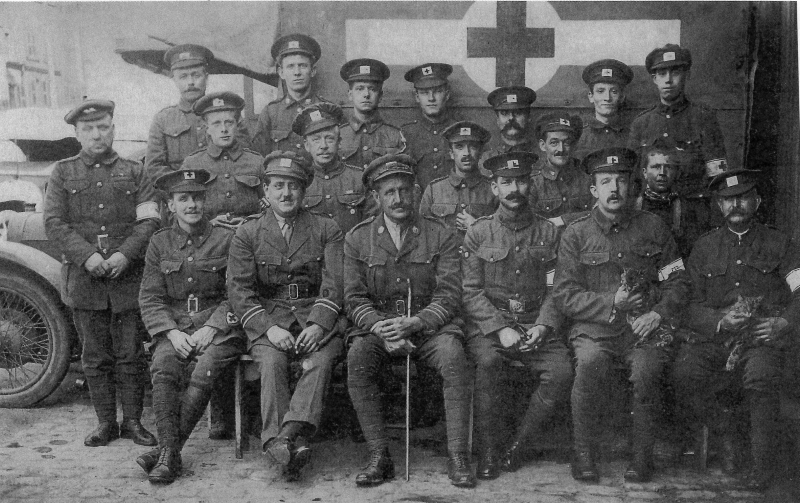 I couldn't believe my eyes - there he was standing in the top left hand corner of the photo. He is on the outside of the back row in a group of nineteen men with a war time ambulance in the background.
I have photos of him as a much older person but this image was certainly a younger him. I still couldn't believe it - What a find!
Excitement took over and I just had to tell all and sundry, of my chance find. I later contacted the magazine and the author of the story asking for more information, but to no avail.
But that find, and the manner in which it happened, was my tale of the week for quite some considerable time.
Fast forward to 2015
It was in the year 2015 and a kind person had lent me some magazines to read, published by The Scottish Borders Society. As a portion of my family had come from the Scottish Borders I was interested in the stories contained and hoped to find by chance, something about my lot.
There were seven magazines in total and this night I'd taken the last one to bed with me to glace at before falling asleep. As my eyes began to close a paragraph heading at the bottom of a page caught my eye. Red Cross WW1 Service Records available at the British Red Cross website (this link goes to the search page).
I was immediately wide awake. There was a webpage address that could possibly tell me all I'd spent years trying to find.
No sleep tonight
Immediately I did what all good genealogist would do and that was to jump out of bed and crank up the computer. Opening my web browser and quickly entering the address, up came hundreds of details. Within minutes I had all before me.
Something I wondered about for years was now before me - Dates and details of Patrick Singer Fowler's WW1 war service with the Red Cross, and as an unexpected bonus there was his nineteen year old eldest son Alexander listed above him as well.
I went back to bed way past midnight a very happy person after another chance find...
---
Footnote
After WW1 in 1922 Patrick Singer Fowler left Tarves, Aberdeenshire, Scotland, and migrated to Sydney, Australia. He and his son Alex operated a watch makers shop in central Hunter St, Sydney for twenty five years until Patricks death in 1947.
Ernie Fowler
Member 9793