Mystery of the Cards
I'm looking to return six Tweede Distributie Stamkaart issued to individuals with the surname de Ruiter who resided in Delft in the last century.
The surname may now have been Anglicized to de Ruyter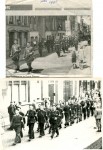 Included with the cards is a copy of a photograph showing a street march as well as a cutting from a May 1998 Delft newspaper showing men in uniform on a street march with the caption Begrafenisstoet op de Oranje Plantage
Click on the images for an enlarged view.
Please contact the Librarian at WAGS if you have any information that might help find the family to whom these belong, or email via the Contact Us page
---
Postcript - This article was first published in Feb 2013, and the owners have been found - see follow up article "The power of a Blog"